Bruno Mallart °Frankrijk 1963
Bruno Mallart is een van de meest getalenteerde illustrators in Europa. Hij leeft en werkt in Parijs, Frankrijk.  Hij werkt als free-lance illustrator sinds 1986 en zijn kunstwerken spreken van een surrealistische en absurde wereld. De originele en unieke illustraties zijn verschenen in enkele van de meest toonaangevende bladen in Frankrijk en wereldwijd, oa. The New York Times, The Wall Street Journal, Financial Times, Télérama, Le Monde , Computer World en The New Scientist. Hij voerde advertentie-opdrachten uit voor international bedrijven zoals Sun Microsystems, Guidant, Volkswagen, Dexia Bank, Audi, City of Paris and Air Liquide.
Stijl / Techiek: Abstract, Animatie, karikatuur, Cartoon, Houtskool, Collage, Conceptual, Design, Digitaal, Fine Art, Graphic, Lettering, Montage, Silhouette, Whimsical, Flash, Potlood
Onderwerp / Specialiteiten: Humor, Avontuur, Dieren, Jaarrapporten, Architectuur, Boek Covers, Comic Book, Computers, Corporate, Editorial, Onderwijs, Fantasie, Gezondheid, Historie, Vakantie, Industrie, Landschap, Medical, Muziek, Verpakking, Mensen, Politiek, Portret, Posters, Produkt, Wetenschap, Technologie, Transport, Reizen, Web Design, Web Illustratie, Americana, Landbouw, Food/Beverage, Lifestyle, Vintage / Retro, Financial, Urban.
" Bruno Mallart schildert, tekent, ontwerpt verbazingwekkende collages en creëert illustraties voor onder meer Le Monde des Livres en Le Monde Campus. Zijn wereld is barok, gevoed door een adembenemende fantastiek, die intrigeert en doet glimlachen omwille van zijn speelse verbeeldingskracht. Die wereld verbaast en verleidt omwille van de veelheid van speelse ouderwetse personages en onverwachte zinspelingen die over elkaar heen buitelen en ons, gecharmeerde kijkers, steeds dieper binnenlokken in een soort spektakel waar de werkelijkheid door beeld geworden verbeelding wordt overspoeld en waar telkens een lang verhaal wordt verteld, iets van weleer dat oog en geest beroert en uit een droomwereld is ontsnapt."  – hugo brutin (a.i.c.a.)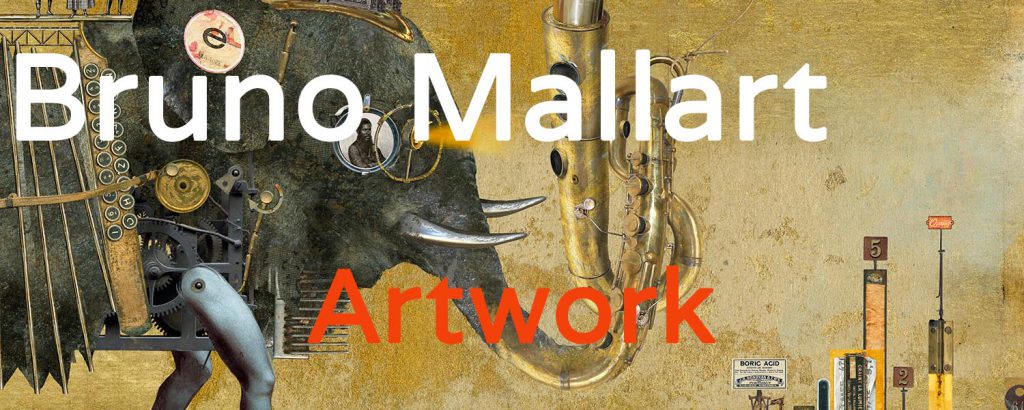 BRUNO IN MALLARDOLAND: Interview by Karen Haber – Realms of Fantasy